The deadliest of drugs are those that are taken of the market for being deadly. That's why we published in BMC, a study of the Delays in the post-marketing withdrawal of drugs to which deaths have been attributed: a systematic investigation and analysis.
I just wanted to point out that of the 95 drugs  that were withdrawn due to deaths 16 remained on the market in some countries – mainly in Africa. In almost half of the cases more than 2 years had passed between the first reported death and drug withdrawal.
Figure 3, in the paper, says it all. There has been no change in this interval – death to withdrawal in 50 years.
This is important stuff, it is a shame the regulators don't think it is too.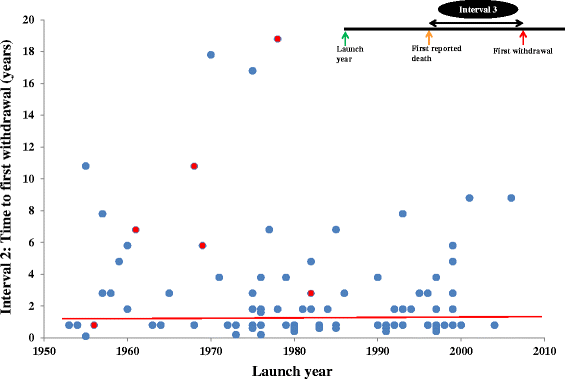 Figure 3. Launch year versus interval 2 (the time lapse between the launch of a withdrawn product and the date of the first reported withdrawal). The red circles indicate medicinal products that were withdrawn due to overdose-related deaths.
You can access the paper here….