This stuff really matters
Thousands of clinical trials have not reported their results; some have not even been registered.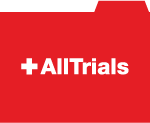 Information on what was done and what was found in these trials could be lost forever to doctors and researchers, leading to bad treatment decisions, missed opportunities for good medicine, and trials being repeated unnecessarily on people and animals.
All trials past and present should be registered, and the full methods and the results reported.
We call on governments, regulators and research bodies to put in place measures to achieve this.
Sign the petition
and tell a friend
Cheers Carl